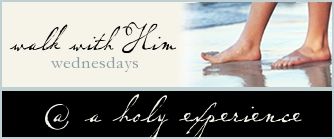 How interesting God's timing is.
A
post from Ann
about wearing habits.
A word from
Betsy
about journaling:
Jesus misses me, and the interaction we have as I write out my heart and record what He says in His word.
A
post from Beth
about a ministry God-designed for my family.
A look back through my blog, finding more posts that I like in 2008--the year of grief--than in 2010.
Here I am. Writing about Walking with Him. On Wednesday.
Walking with Jesus for me means writing--honest, messy, do-I-dare-to-chronicle-it writing. I look back through the many scattered journals laying around my house, and I find messy handwriting recording glorious conversations between me and the God of the universe. You know what?
He speaks to me there.
Like on this long-ago-written journal page:
He speaks to me in His word as well. I've made a habit of reading my Bible with a pencil in my hand. I underline passages, yes, but I've also given myself permission to write in the scripture's margins. I started this practice last year, reading through the
NLT's
Chronological Bible
.
This year, I thought I'd go hi-tech and read the Bible on my phone. I found a chronological reading plan in
The Message
translation. I can even bookmark verses and make notes to myself.
You know what was missing? All the comments and questions I wrote in the margins of last year's readings.
Like this note on Genesis 2:25 ("Now, although Adam and his wife were both naked, neither of them felt any shame."):
True authenticity--Lord, can this state be restored between humans before heaven?
And this note on Acts 2:11 (On the Day of Pentecost, everyone heard in their own language the disciples "speaking about the wonderful things God has done!"):
Candi, do you speak about the wonderful things God has done?
This is the year I will speak of those things God has done. This is the year I will crawl into my journal, unload my heart onto its pages, and listen for God's voice there.
This is the year I will wear the habit of writing.