This is the year: I'm joining
Ann
and counting my blessings.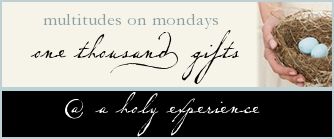 The idea is keep a journal of all the things you have to thank God for. The endeavor reminds me of one of my favorite hymns:
When upon life's billows you are tempest-tossed,
When you are discouraged thinking all is lost,
Count your many blessings; count them one by one,
And it will surprise you what the Lord has done.
I've made this counting out loud a verbal practice in the past, especially when my attitude is less than desirable, or I'm slipping into pity-party mode. But I like the idea of having a set time in the week to list, on paper, the things I'm thanking Jesus for.
Purposefully.
Since I've never actually cataloged His gifts to me, I'll start at the beginning, with those everyday gifts He blesses me with, the ones I can take for granted if I'm not careful.
Here are my 1000 Gifts.
Thank You, Jesus, for:
1. my godly husband Michael who loves me so profusely
2. my Cami girl, God's answer to my mommy's heartcry
3. our Roscoe dog, who makes me laugh out loud every day and of whom I have more pictures on my phone than of anything--or anyone--else
4. a warm bed with freshly laundered sheets
5. pillows...many, many pillows
6. readily available hot water
7. sunshine that cheered my heart this day
8. music
9. a laptop that I don't have to share with anyone (although it's my pleasure to)
10. a Verizon Droid Incredible phone which I use much more than I ever used the used IPhone I had last year

But that's another blog post.